Every parent can tell you the exact moment that they found out their child had ARPKD. It is from that moment that their story begins. Here is mine:
I had a normal pregnancy. I had morning sickness around the clock, cried at the drop of a hat and craved steak and mashed potatoes. I planned on doing hypnobirthing, had my cd player, my music and my bag packed and ready to go when I was 32 weeks pregnant. I was prepared. I knew what mommy and me groups we would join, I had a name picked out, a coming home outfit and couldn't wait to meet the little man.
At 37 weeks 1 day I had an ultrasound scheduled at 1 pm. I remember that morning saying to my husband that today was a great day to have a baby. At the ultrasound the technician took what seemed like forever and kept focusing on one image on the screen. I asked what that was and she said a kidney. I thought to myself, "wow that looks like a big kidney, maybe she just magnified it on the screen". We walked into the exam room and I was told I had no amniotic fluid and that my son's kidneys were measuring 6cm each and to immediately go to the hospital and that I was going to have a baby that day. My husband and I were scared, excited and worried.
When I arrived at the hospital they hooked me up to the machine that measures the babies heart rate and told me I was already 2cm dilated and they would induce me. My nurse assured me that most likely nothing was wrong with the baby and ultrasounds aren't always accurate. This put me at ease. I had a friend whose daughter had a kidney issue as a baby and she was fine so I didn't give it much thought.
During the next few hours I laughed with my husband, ate a sub, sent him home to get my stuff, breathed through the contractions and waited. The nurses kept coming in and telling me to lay back down that they thought the heart rate machine was moving too much, so I was permanently stuck in the hospital bed at that point.
(This is the part of my story where I get misty eyed) My wonderful midwife came in at 8:45 pm and sat down next to me and said, "Just so you know the doctor is going to come in here in about a minute and tell you that you need to have a c-section. We've been watching the monitors and the babies heart rate keeps dropping". I was speechless. My eyes welled up with tears, I looked at my husband and saw the concern on his face. This wasn't supposed to happen.
The next few minutes were a blur. It felt like a million people jammed into my room. I had a nurse holding my hand, one holding the heart rate monitor and looking at the screen, one giving me an IV and god nows what else was going on. I asked the doctor when he would do the c-section and he said 9:15. I felt like I needed to breathe and I wanted things to slow down. I needed a moment to process everything but unfortunately that didn't happen. My baby was in danger and they had to get him out.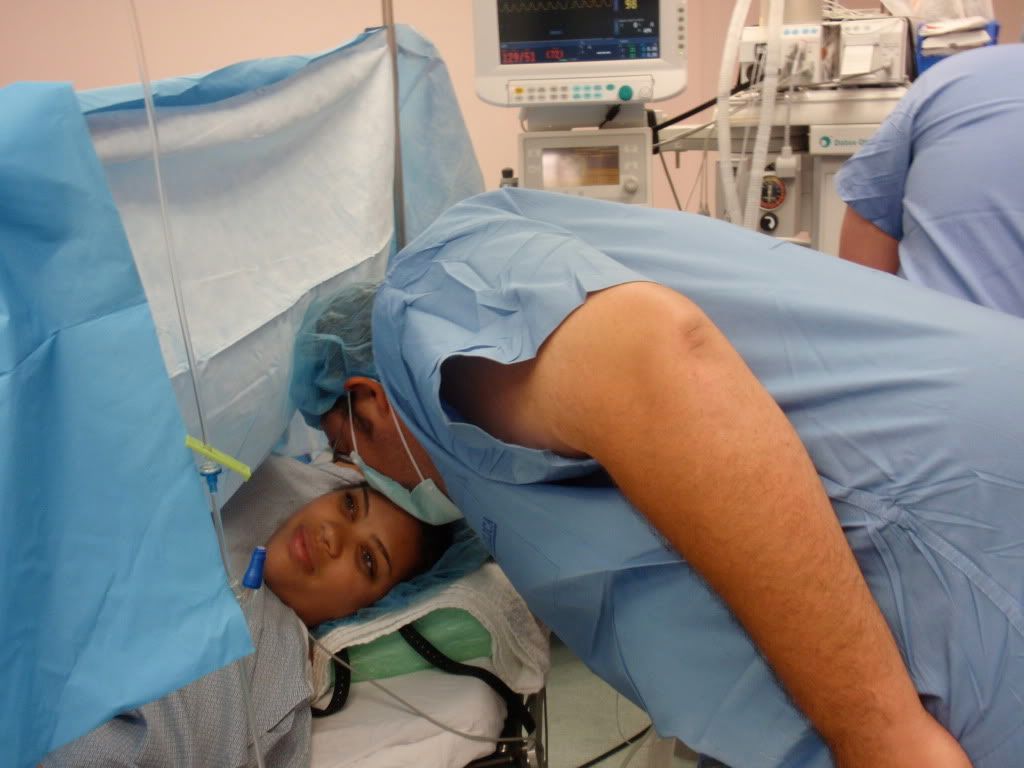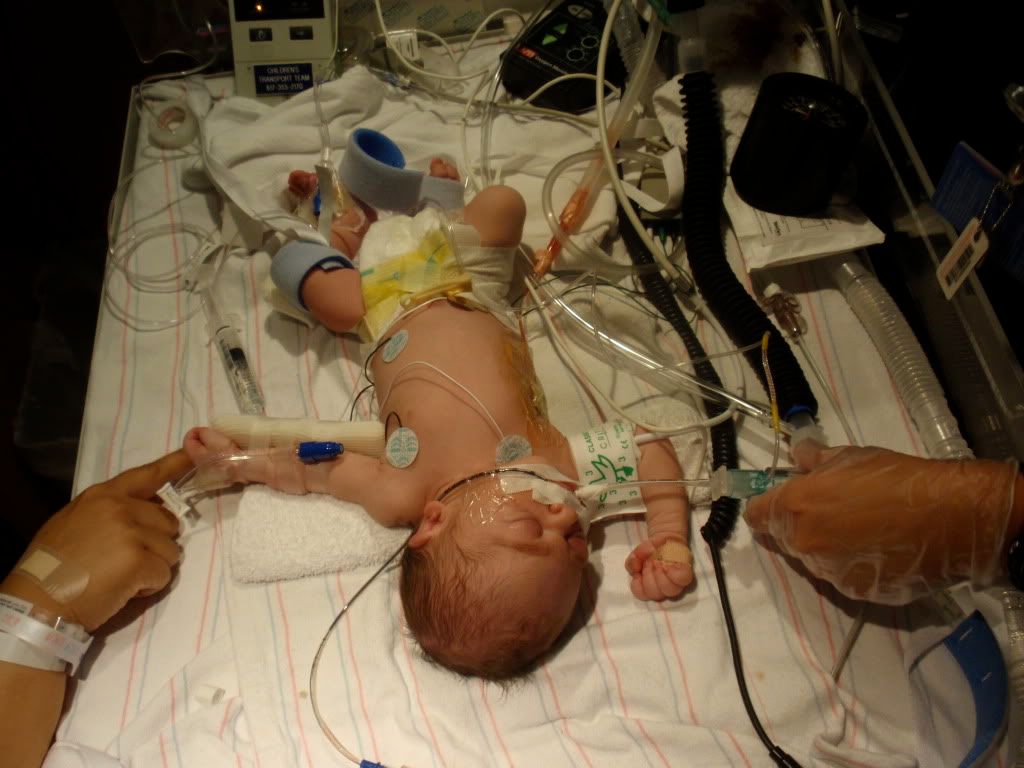 I never felt the epidural (I think I was still in shock) and at 9:45 I heard Henry cry and the nurse came over to me and said his apgar scores were 8 and 9. I was so excited. They put his little face next to mine and he opened his eyes. I can still remember thinking he was so tiny and looked just like a little monkey. I watched as they cleaned him up. I watched as my husband held his son for the first time. Then I said goodbye and watched as my husband went with the nurse to bring him to the nursery to get checked out.
They never made it to the nursery. Henry turned blue when he was in the elevator and we later found out his lungs had collapsed. Once I had left recovery and was back in my room I kept asking over and over what was happening. I'm not sure if anyone gave me answers (I was pretty heavily drugged) but I constantly kept waking my husband up and sending him to check on the baby.
Around 1 am the nurses said that Henry had to be transfered to Boston Children's Hospital but assured me once again not to worry because often babies go there and come back the next day. Once again I felt re-assured that everything would be ok. The nurses said they would wheel Henry down soon so I could see him before he left. My husband was planning on staying with me over night since we assumed Henry would come back the next morning.
It felt like forever until we saw a nurse again. Finally at 4 am they said they couldn't bring the baby down but we could go up to see him before he left. I got up out of bed (yes 6 hours after a c-section) and was wheeled up to say goodbye to my baby. I wasn't prepared for what I was going to see. No one told us how serious it was. No one told us it took 3 hours to stabilize him so he could be transfered. No one told us our baby was holding on for dear life.
The image I saw when I got there changed my life forever. There were so many tubes coming out of everywhere. I didn't know what to say, I felt sick to my stomach and in shock and puked right there in front of everyone. There was no question in our minds, my husband was going to go with Henry in the ambulance.
The next 12 hours were the loneliest. The staff didn't know what to do with me. There were no ballons, my room wasn't filled with our family cooing over a new baby because there was no baby. My husband kept in contact with me every few hours to let me know how Henry was doing. He got the okay to go home and shower and he stopped by to see me on the way. While he was in my room we got the call that he needed to go back to the hospital immediately and that it didn't look good. I felt helpless. They couldn't transfer me to be closer to Henry. Finally they allowed me to leave the hospital for the evening and my mom drove me up to Boston.
That night in the NICU is the single worst experience of my life. I won't spare you the horrific details but I wouldn't wish it on my worst enemy. We almost lost Henry that night and I will never forget looking down at Henry with the doctor standing next to me and hearing her say, "his lungs are dying". Those are not the words a mother wants to hear. I couldn't imagine losing him. I needed him so much.
Henry made it through the night and spent the next 3 weeks in the NICU with my husband and I by his side. We learned he had pulmonary hypoplasia (underdeveloped lungs) and ARPKD. He was on a ventilator, diuretics, all sorts of pain medication, had 2 chest tubes in due to pnumothoraces and at one point was the sickest baby in the level 5 NICU. He was strong though and fought hard to live.
Despite being born with failing kidneys and under developed lungs Henry became the miracle baby. He made a full recover and left the NICU with out a feeding tube or oxygen. Within the first few months home he was weaned off his diuretic medication and slowly allowed more and more fluids. Today our biggest concern is high blood pressure.
While staying in the NICU my husband and I started a blog for him
Here
. I still keep that site up and running so if you would like to read about Henry's first 8 months of life go there. I also created a video chronicling Henry's journey
Here
.
I know my story is similar to so many other ARPKD mom's. It never gets any easier to tell and is forever a part of who you are. My story is something I hold close to my heart because I did get one amazing thing out of it.... Henry.